The Town of Drniš is situated in Dalmatian hinterland, in the central part of the Šibenik-Knin County, halfway between Šibenik and Knin. It is an administrative, economic and cultural center of the historic and geographic micro-region extending from the slopes of Promina mountain, across Petrovo field to the river Čikola and Moseć mountain.
Drniš sits at the crossroads to the most beautiful and most attractive parts of Krka National Park and the Šibenik-Knin County. It is well known for its original prosciutto, excellent wines and well preserved traditional, cultural and natural heritage. The town is rich in religious buildings and surrounded by medieval fortifications built by the Croatian lords to protect their lands and river crossings over Krka and Čikola rivers. In this area a world famous sculptor Ivan Meštrović was born and his art is also an essential part of the area's tourist offer.
Drniš inhabitants lovingly nurture music and folk traditions of their area so customs, folk costumes, traditional dances and melodies are woven into numerous cultural events. First written evidence of the town's existence dates from the year 1494. Today, Drniš has about 3 200 inhabitants, whilst the wider town area counts about 7 800 inhabitants. The climate here is sub-Mediterranean, with mild winters and hot summers.
Top things to do
in Drnis
VISIT IVAN MEŠTROVIĆ'S WORKS OF ART
Ivan Meštrović (1883-1962) was a sculptor, painter, architect and writer, and is one of the most valued Croatian artists from the first half of the 20th century. He was born and raised in Otavice near Drniš. He lived and worked in numerous international centers, such as Paris, Cannes, Zagreb, Belgrade, Rome, Geneva and Lausanne. Meštrović's art works are exhibited all over Croatia and worldwide. He dedicated and then donated a substantial part of his work to his homeland. Near Otavice he designed and had built The Most Holly Redeemer's Church, (his family tomb), and he also designed the school building and the public healthcare facility in Otavice. Substantial number of his art works can also be seen in Drniš.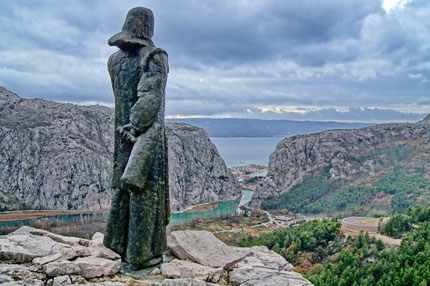 VISIT DRNIŠ CITY MUSEUM AND OLD MILL
Drniš City Museum is situated on the town entrance, near the bridge over Čikola river. Apart from the collection of Ivan Meštrović's art works which holds about 50 exhibits, the Museum also exhibits archeological, cultural and historical collections, a collection of old photographs and postcards, maps and prints, a collection of weapons and military equipment, a numismatic collection, a collection of medals and decorations, and a contemporary art collection. Not far from the Museum building, at the entrance to the Čikola river canyon is the Old Mill from 15th century. The Old Mill once had five mills in operation, but it was abandoned at the beginning of 17th century.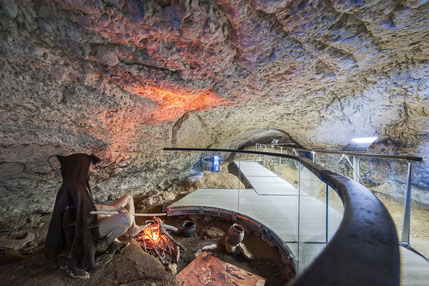 VISIT MEDIEVAL FORTIFICATIONS GRADINA AND KLJUČICA
Along Krka and Čikola canyons, as well as in Drniš, the remains of several majestic forts and fortifications can be visited. Although some were built earlier, all forts are considered a part of the medieval defense system, built and owned by Croatian aristocratic families Nelipić, Šubić and others. The system of medieval fortifications Ključica, Kamičak, Bogočin, Nečven and Trošenj is considered to be one of the largest and most significant historical defense structures in Croatia.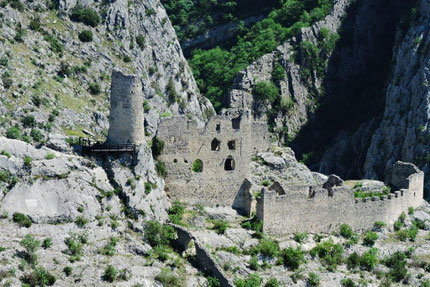 ATTRACTIONS IN ČIKOLA RIVER CANYON
The extremely attractive canyon - up to 130 meters deep, through which during winter a fast karst river flows and during summer it vanishes leaving the canyon completely dry - provides many opportunities for hiking, rock climbing and canyoning. Apart from the arranged walking path and lookouts, 50 climbing routes for free climbing on the steep karst cliffs, and 10 kilometers long canyoning route, a zip line over Čikola canyon. Zip line has three lines in total length of 1400 meters and is a true adrenalin attraction. Among several caves in the canyon, the most familiar one is Topla peć (Warm oven).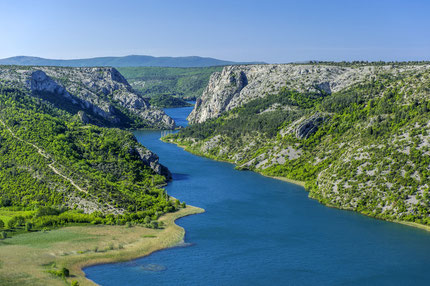 VISIT KRKA NATIONAL PARK
The river Krka flows in a total length of 72.5 km, 50 km of which are under the protection of the national park as a unique natural phenomenon, with seven waterfalls and a total altitude drop of 224 m.
The most attractive part of the Krka National Park in Drniš area is Roški Waterfall. The length of its travertine barriers is approximately 650 m, the maximum width of the river flow is 450 m and a total drop of the waterfall is 22.5 m. At the tallest part of the waterfall, 15 meters high, the river dives into Visovac Lake. In 1909 one of the first hydro power plants in Europe was built precisely at Roški Waterfall.