Oxford – a Year-Round Destination
Its towers, spires, gilded gates and wind vanes glinting in the sunshine, Oxford is perhaps most magical in winter's snow and early spring. Secluded college gardens are carpeted in flowers, blossoms tumble over cloister walls, and Christ Church's rare breed cattle are turned out to munch the ancient meadow.
If you fancy a bit of culture, there are 5 free museums, including Britain's first, the Ashmolean, a Modern Art gallery and 5 towers with splendid views. Concerts and a varied programme of theatre, from pantos to Shakespeare in college gardens are often on offer, as well as candle-lit Evensong in the Cathedral.
The best way to explore Oxford is on foot with an Official Guide. Tours for groups of any size and in many languages can be booked through the Oxford Visitor Information Centre. Themed tours, focusing on subjects as diverse as gargoyles and stained glass, as well as TV programmes like Morse/Endeavour/Lewis/Midsomer Murders add an extra dimension to your visit.
Oxford is a unique all-year-round destination. With its compact city centre, quirky independent shops and High Street big names, Oxford is ideal for shopping - in the summer sales, at Christmas or whenever. Foodies will revel in the Covered Market with its impressive displays of fresh foods and Cake Shop, guaranteed to make you laugh. (And how many shops achieve that?)
With accommodation ranging from Edwardian grandeur to the former prison (velvet handcuffs anyone?), from welcoming guest houses to the YHA, there's somewhere to suit every visitor.
There's plenty to see in Oxfordshire too - Blenheim Palace, Cotswold Wildlife Park, Broughton Castle, Waterperry Gardens to name but a few - and Oxfordshire's market towns, a-bustle with shoppers, make a great stop on your travels. For serious shoppers, of course, only Bicester Village will do.
You won't see and do everything on one trip - but you can always return. Most people do…..
Hotels & Apartments
in Oxford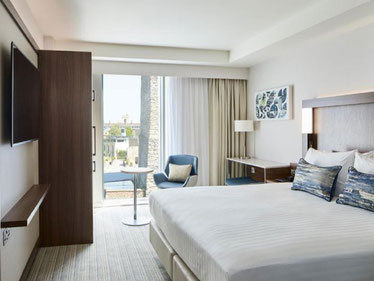 Courtyard by MarriotT 
★★★★
The High Street is 400m away
Perfect location- right in front of the Oxford Castle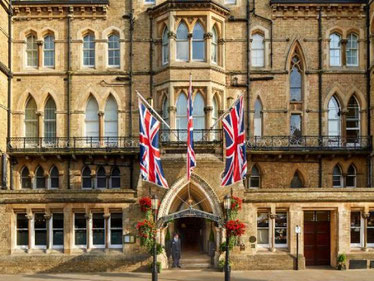 Randolph Hotel 
★★★★★
The Hight Street is 500m away
Sumptuous bedrooms and a spa
Tours & Activities
in Oxford
Top things to do
in Oxford
Walking in Oxford
The best way to see Oxford is on foot - whether with an Offical Blue/Green badge guide or using one of the many maps and guides available from the Visitor Information Centre or in our online shop. Themes for walks include Science, 'Alice', Film Locations, the pubs, Stained Glass, Presidents, Prime Ministers and Political Persons, Women in Oxford, the river and the canal.
Film & Tv locations
Many and varied are Oxford and Oxfordshire's film and TV locations. Sometimes the place is as important as the main characters in the series (as Oxford in Morse and Lewis), at other times it's an unnoticed setting for the action (Blenheim Palace in Harry Potter).
Ashmolean Museum
One of the world's leading museums, the Ashmolean in Oxford, has reopened following a major £61 million redevelopment. The project has been funded with a £15 million grant from the Heritage Lottery Fund (HLF). Additional major support has been received from the Linbury Trust, along with numerous trusts, foundations and individuals.
Boat Trips at Salter's Steamers Ltd
Punts, pedallos, day and rowing boats for hire on the Isis (the Oxford Thames). Boat trips: scheduled passenger boat services on the Thames. Daily trips from Folly Bridge, Oxford, to Iffley Lock, Sandford and Abingdon.
Parks & Gardens
Oxford and Oxfordshire's parks, gardens and green spaces come in all shapes and sizes. Oxfordshire's rolling countryside, dotted with picturesque villages and where country mansions often appear. A network of public footpaths and bridleways criss-cross fields and meadows.