City of Lahti is a Gateway to the Finnish Lakeland – the largest in Europe. Finland has over 188,000 lakes and the water is the cleanest in the world. Lahti is located only an hour north from the capital Helsinki, international airport and harbours - and 2,5 Hrs away from St Petersburg by train.
As European Green Capital 2021 Lahti is a frontrunner in climate work and a pioneer in sustainable and smart solutions. In the Lahti region, you can experience pure and diverse nature sustainably. From Lahti the waterway opens up from local lake Vesijärvi to the pure Lake Päijänne which is the second biggest lake in Finland - providing drinking water to the whole Helsinki region. 74% of the city area is covered by forest, while 11% consists of bodies of water. The best tap water in the world, filtered and purified naturally by the Salpausselkä ridges, is an everyday luxury for the people of Lahti.
Lahti is also a traditional well-known sports city whose iconic landmarks are three ski jumps. Host city Lahti welcomes thousands of sports enthusiasts all year around for active holidays – gravel cyclists, mountain bikers, cross-country skiers, triathletes, trails runners, hikers and open water swimmers enjoy the natural surroundings and premises. In addition, there are two Olympic training centres - Vierumäki and Pajulahti open for all in the region.
Lakeland Finland holiday is all about relaxing in connection with nature. The stark contrasts between the four seasons - endless summer days or darkness and calmness of winter make the visit every time different. Finnish traditional sauna, swim in open pure lakes, slow walks in the forest and nights in a private lakeside villa are essentials for every visit. Lahti region is one of the busiest cottage holiday destinations in Finland.
A Landscape Created by Water
Salpausselkä Geopark, situated in the Lahti region, represents the best-known geological heritage of Finland. The unique landforms, such as the magnificent Salpausselkä ridges and the picturesque Kelvenne Island and Pulkkilanharju Esker in Päijänne National Park, were shaped by ancient meltwater streams at the end of the Ice Age. The diverse landscape of forest-covered ridges, rocky outcrops and hundreds of lakes offers breath-taking sceneries and makes the area excellent for nature tourism. Salpausselkä Aspiring UNESCO Global Geopark is full of interesting sites to visit all year around.
Best hotel deals
in Lahti | Lakeland Finland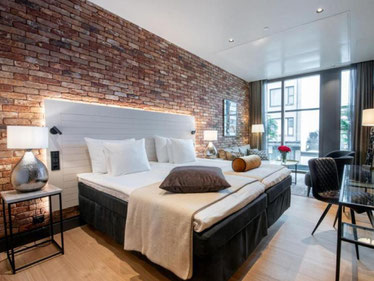 Solo Sokos Hotel 
★★★★
Located in the real heart of Lahti
Great Food: Meals here are highly recommended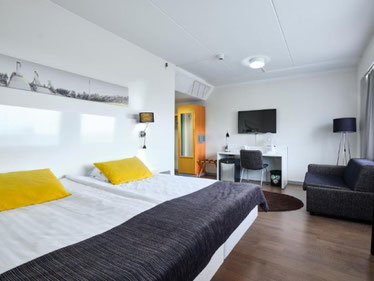 GreenStar Hotel Lahti 
★★★
Located 60 metres from Lahti Train Station
Private parking available
Lahti | Lakeland Finland
image gallery
Top things to do
in Lahti | Lakeland Finland
Lahti is a Gateway to Lakeland Finland
Lahti is the first real lakeside city and Lake Vesijärvi is the most southern body of water in Lakeland Finland. Lahti region offer an impressive range of lake side activities all year round - fatbiking, kayaking, cycling, fishing or a lake cruise with lunch onboard are mustdo's in the Lahti region.
In Päijänne National Park esker islands, rugged cliffs and bird rocks create a unique landscape and nature. The national park is part of the Salpausselkä Geopark landscape formed by the Ice Age.
Sibelius Hall and the Passenger harbour
The harbour is full of restaurants and cafés, many of which are open all year round. The crowning jewel of the harbour is Sibelius Hall where congresses, concerts and cultural events are organised in an architecturally impressive venue. You can also spot other wooden architecture buildings and pieces of art in the harbour area.
Lahti Passenger Harbour is an idyllic place to take a break all year round. In summertime you can enjoy a breathtakingly beautiful sightseeing cruise across the Lakeland Finland all the way to pure lake Päijänne.  In wintertime locals go hiking, skating and cross-country skiing on a frozen lake.
Lahti Sports Centre and two Olympic training centres for active holidays
Lahti region provides premium conditions for sports enthusiasts and active outdoor minded travellers. Lahti Sports Centre offers plenty of opportunities to enjoy sports and activities – it is an impressive venue for major international sports events but also a starting point for over 100 km of nature trails for cross-country skiing, hiking, trail running, gravel biking and MTB. In summer, you can enjoy the wonderful view from the observation deck at the top of the Lahti Ski Jump tower and dip into the outdoor swimming pool.
Brewery City
Local cuisine is famed for its fish, rye bread, game, berries and mushrooms. Lahti Region boasts with breweries - one of the key components to our excellent produce is the fresh and clean water from natural springs.
Wineries, breweries and coffee roasteries
Lahti is home to the leading Finnish brewery Hartwall as well as several microbreweries. In Lahti, perhaps the best tap water in the world is turned into world-class whisky, beer and wine. Teerenpeli's whiskies and Ainoa Winery's berry wines have won several international awards. In addition, the wines, ciders and beers of Pihamaa Winery, Kanavan Panimo brewery and Teerenpeli have been recognized internationally. Pure water is the best ingredient for the local artisan roasteries' coffee.
Salpausselkä Geopark – A Landscape Created by Water
The Salpausselkä ridges, long chains of eskers, magnificent rocky hills and hundreds of lakes dotted with islands create a landscape with breath taking scenery and of unique geological interest.
The First and Second Salpausselkä are unique ice-marginal formations laid down by the last Ice Age. They reach across the entirety of southern Finland and are at their most spectacular in the area of Salpausselkä Geopark. Here they are joined to feeder eskers of international value, such as the picturesque Kelvenne Island and Pulkkilanharju Esker in Päijänne National Park.
Salpausselkä Geopark is an aspiring UNESCO Global Geopark which is an essential part of Lahti region's goal towards to become a sustainable travel destination.  
Video
of Lahti | Lakeland Finland