The Great Western Greenway – Mulranny – Co. Mayo has been formally designated a European Destination of Excellence. The award recognises outstanding locally driven achievements, including the opening of the Great Western Greenway, the sensitive restoration of the stunning Mulranny Park Hotel, and the regeneration of Mulranny's Victorian Causeway and Look Out Hill Walk. Combined with a truly spectacular location these developments enhance an already remarkable place.
Representatives from Mulranny Tourism and Fáilte Ireland, travelled to Brussels in late September to accept the 2011 award on behalf of the Community of Mulranny, Greenway Landowners, Mayo Co. Council and everyone involved in the Regeneration of Mulranny's tourism product.
This is the 5th year of the European Commission sponsored EDEN Awards (European Destinations of Excellence) and 21 winning destinations across Europe were selected for their commitment to social, cultural and environmental sustainability and for reflecting this year's theme:- "Tourism and Regeneration of Physical sites".
A decade of community-led regeneration was to undo a century of decline when the area's decaying built railway heritage was sensitively renewed for future generations to enjoy. The former Mulranny Railway hotel was reopened in 2005 inspiring a community led initiative to redevelop the Mulranny Causeway and the Victorian walking trails into a high amenity loop walk accessing three European-designated Natura 2000 sites.
Finally, 73 years after closure, the Great Western Railway Line was re-born as the Great Western Greenway. The walk and cycling trail offers stunning panoramic views over the vast seascape of Clew Bay, its archipelago of drowned drumlin islands, the vast Nephin mountain range and Bellacragher Bay. The 42 km Great Western Greenway offers an exhilarating and safe experience for all the family with gentle gradients, through some of the most spectacular landscapes and seascapes in Europe.
Top things to do
in Mulranny
The Great Western Greenway
The World Class Great Western Greenway is a 42km traffic free cycling and walking facility which primarily follows the line of the famous Westport to Achill Railway, which closed in 1937. It's development has been made possible by agreement of local landowners who have allowed permissive access to users to pass through their lands.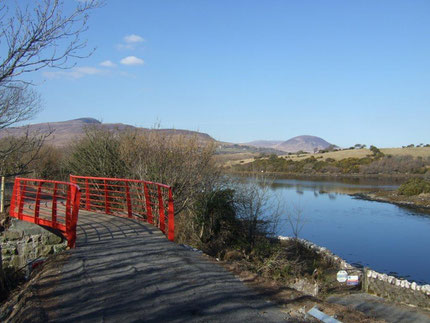 Beaches
Mulranny has a number of spectacular coves with beautiful soft golden sand backed by machair dunes. All have breathtaking views across Clew Bay and out towards Clare Island.  An energetic walk along any of these strands in any weather would uplift and inspire even the lowest of spirits.
Mulranny's Blue Flag beach is directly accessible via the Causeway and has Lifeguards on duty from June to August every summer as well as toilet facilities.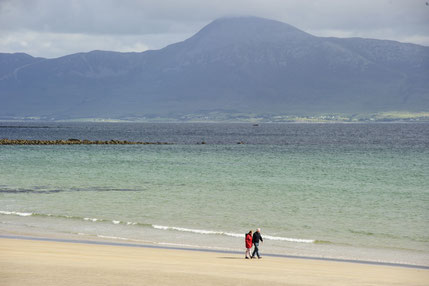 Walk
Starting at the Mulranny Park Hotel this is a walk of stunning beauty and immense diversity.  Such is the biodiversity here, that you enter three different European designated areas of conversation and Ireland's largest National Park.  On the way visit Ireland's only stand of Mediterranean heather, woodland, beaches, rare Machair dunes, Atlantic salt marsh and traverse Trawoughter Bay along Mulranny's unique causeway.  The route features elevated views of the dramatic deep sided Bellacragher Bay and to the south the stunning spectacle of Clew Bay and its drowned drumlin islands set against the majestic Croagh Patrick.
Carrowholly Stables & Trekking Centre
Canter and gallop on the strands of Clew Bay.  Enjoy trekking for one, two or three hours or why not take a full day and live the experience more!  Guided scenic treks with stunning views as featured on the R.T.E. programme "No Frontiers".