Cologne Christmas Market 2023
From 23rd November to 23rd December 2023
Visit Cologne Christmas Market, one of the Best Christmas Markets in Germany. Advent is the time for Christmas markets, and Cologne is no exception. From 23 November to 23 December 2023, the magic of Christmas will be felt throughout the festively decorated city. The aroma of baked apples, cinnamon biscuits and mulled wine will waft through the alleys, and many differently themed Christmas markets will invite people to stroll, shop and explore.
Several Christmas markets in Cologne have plenty to offer, from selected gifts and individually crafted artisan handicraft to culinary specialities.
Cologne's Christmas markets attract millions of visitors from all over the world every year. You too can savour the unique atmosphere of this metropolis on the Rhine at this special time of year. You're sure to be enchanted!
During your stay do not miss to visit the Most Beautiful Christmas Markets in Germany, Best Secret Destinations in Germany, Most Beautiful Castles in Germany and Best Places to Visit in Germany. 
Book your flights, your accommodation as well as your tours & activities and discover the Best of Germany.

Hotels & Apartments
in Cologne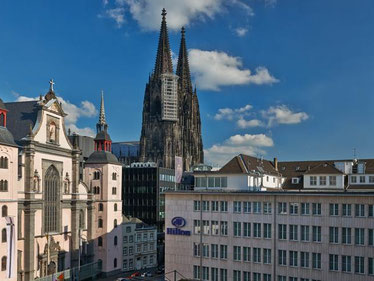 Hilton Cologne

 ★

★★★★
Very good location
The Cologne Cathedral is just 200 m away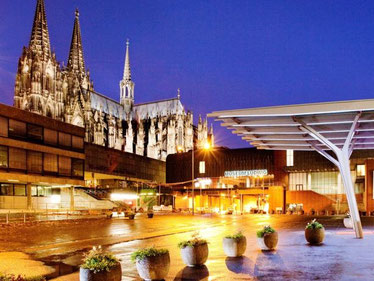 Hotel Mondial

★★

★★★
It is situated just steps from the Cathedral
On-site parking and spa facilities

Tours & Activities
in Cologne

Christmas in Cologne
image gallery

Top things to do
for Christmas in Cologne
The Cologne Cathedral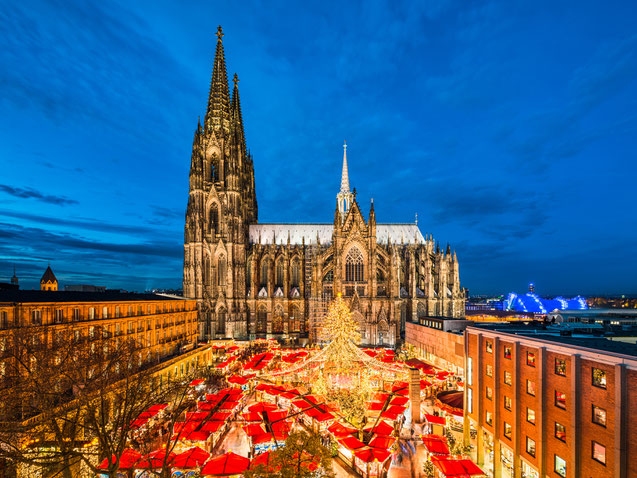 The Cathedral is not only the centre and heart of Cologne it is also the number one attraction in Germany with more then six million visitors per year. The gothic Cathedral with its 157m high towers was after it was finally finished in 1880 the highest building in the world. By now it is still the third highest Cathedral in the world and it has enough space for 4,000 visitors. Every day you can visit five services and every weekend several thousands people come together to celebrate worship together.
Love locks
Along the Hohenzollernbrücke (Hohenzollern bridge) you will find more than 40.000 colourful padlocks, which were brought there by happy couples, families and friends. The locks, which are marked with their names, are attached to the bridge and the key is thrown into the river to proof eternal love.
4711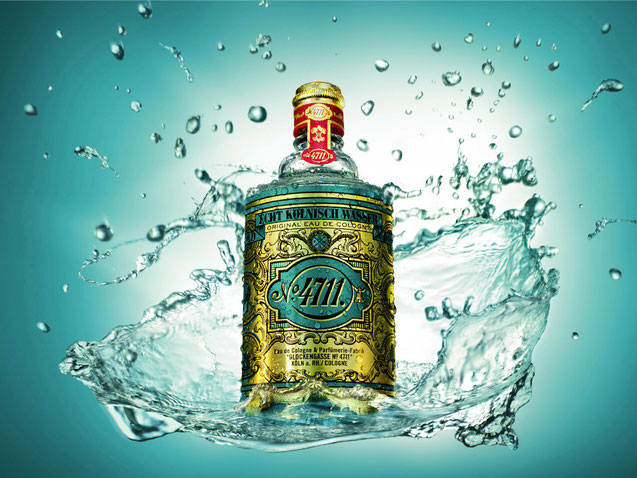 On of the best known brands from Cologne is the famous perfume 4711. The brand comes from Cologne and you can visit its "home" the "House of Fragrances 4711" at Glockengasse 4711 where the perfume was developed and produced in former times. The store includes a museum which you can visit with a tour guide. Furthermore, groups can book a fragrance workshop during which they learn how to produce their own perfume. The self-made fragrances can be taken home after the workshop.


Best in Europe.
For an enchanted Christmas in Europe