Skaftárhreppur is right in the centre of South Iceland which makes it the perfect place to be while travelling all around South Iceland. Kirkjubæjarklaustur, often abbreviated to Klaustur, is a tiny village set on the edge of an ancient lava field. It is centrally located in the district and offers services to travelers. Roads radiate from Kirkjubæjarklaustur in many different directions. The Ring Road (no.1) runs through the district. From here you have an easy access to many of Iceland's most treasured nature wonders. Being in the centre of south Iceland makes Klaustur the perfect location for adventurous day trips or walks. 
Skaftárhreppur is a part of Katla UNESCO Global Geopark and Vatnajökull National Park, it's like driving into an open-air natural history museum - springy hummocks of wooly fringe moss and conical volcanic mounds topped with little vents, called rootless cones, dominate the landscape for as far as the eye can see. The district spans a vast variety of landscape and vegetation, with a natural environment of striking contrasts.
The entire region is bursting with mysterious tales connected with events that occurred hundreds of years ago, when Klaustur was the site of a convent. In 1186, a Benedicte convent was founded at Kirkjubær. The convent was active until disbanded at the Reformation in 1550. Many local place names and folktales reflect the presence of the nuns and ecclesiastical history down the centuries.
Natural disasters such as volcanic eruptions and sudden floods from beneath the glacier have through the centuries, shaped the nature and society of the region. In Skaftárhreppur was the greatest lava flow from a single volcanic eruption in the history of the world, the Laki Eruption of 1783-1784, when a huge lava flow streamed from Lakagígar. Eruptions have also taken place in historic times in Eldgjá, Katla in Mýrdalsjökull glacier and under Vatnajökull glacier. 
Skaftárhreppur is the second largest region in Iceland, but very thinly populated. It enjoys a pleasant climate, with mild winters and warm, sunny summers. The cornerstone of the local economy is agriculture and tourism. Here you can find rich gastronomy with variety of food from local farmers.  
The area has many diverse walking paths in unspoiled nature and unique landscape. Majestic waterfalls of diverse sizes can be found in the area and glaciers crown the view. The famous Jökulsárlón Glacial Lagoon is close by, and Vatnajökull Glacier, the biggest glacier in Europe dominates the horizon to the east and Mýrdalsjökull to the west.
Exciting stuff indeed and just waiting to be discovered!
Skaftárhreppur
image gallery
Top things to do
in Skaftárhreppur
Visit Geosites of Katla UNESCO Global Geopark
Skaftárhreppur is a part of Katla UNESCO Global Geopark, the first geopark in Iceland. Sites of geological heritage and unique landscape are both in highland and lowland of Skaftárhreppur. Many of the sites are of international geological significance. Geosites like Fjaðrárgljúfur, Lakagígar and Eldgjá are not to be missed.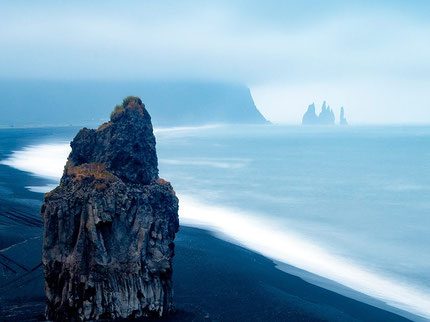 Skaftárstofa - Vatnajökull National Park Visitor Centre
At Skaftárstofa you get all the information you need.  Eldmessa "The Firemass" is a short documentary film, shown in Skaftárstofa, about the Laki eruption in 1783 - 1784 and its consequences. An exhibition in Skaftárstofa showcases moss as the characteristic vegetation for Skaftárhreppur and has among other things, interactive screen with information about sites in Vatnajökull National Park.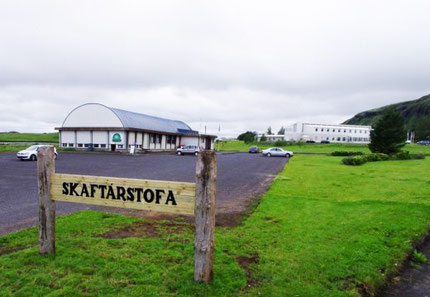 Local food
A variety of food from local farmers is available in the area.  Restaurants offer local products like local arctic char that is raised in crystal clear spring water, originated from Vatnajökull Glacier, that has been filtered through layers of lava. Meat from lamb that roam free in the heaths and mountains during summertime. Beef from local farmers are available at restaurants along with local root vegetables. A local delicacy is smoked mutton leg, something everyone must try.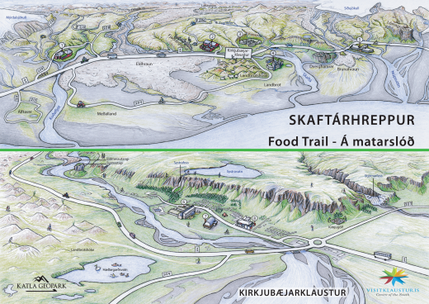 Outside Experience
Beautiful trails can be found in Skaftárhreppur, a variety of different walking paths, suitable for everyone. Go with a local guide and learn about their local vicinity, or go on your own and download a smartguide to lead the way.
Countless other outside activities are available in the area. Go see a sheepdog show at a traditional Icelandic farm, take a tour on fatbikes with a local guide and even go to explore caves under one of the largest lava fields in Iceland, go on jeep tours with a local to the highland or to black beaches of Skaftárhreppur. Short driving distances are also to Skaftafell to go glacier walking.
Visitors can design their own souvenir, filled with Natural Treasures from Skaftárhreppur e.g. wool, moss, lichen, black sand, red pumice and fresh unpolluted air. It is a unique-to-Iceland tourism concept.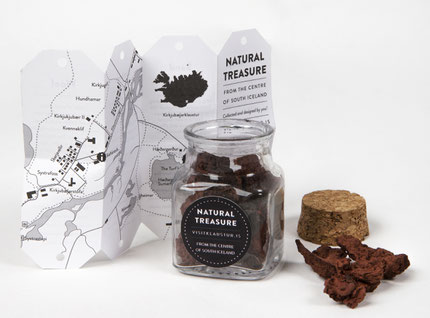 There is an app for that!
You can take a guided tour of the area using SmartGuide, a downloadable audio-guide app which takes you to 26 locations all connected to the Laki Eruption. The app can be accessed by GPS from anywhere using your smartphone. 
There is also a SmartGuide that covers Klaustur trail a 20 km walking trail complete with information about geology, landscape and history of Skaftárhreppur. 
Family-friendly treasure hunt in Kirkjubæjarklaustur. Why did the nuns sing in Sönghellir cave? What type of river is Skaftá? Find out more by playing the treasure hunt game.