Jūrmala is a green seaside resort that is rich in unique natural resources - pine forests, mineral waters and mud, healthy maritime climate, dunes and white sand beach!
While walking and cycling along the coast, you can get inspired by listening to the sea waves rustling, feel the historical charm of romantic streets, have a look at the resort's unique wooden architecture, and meet hospitable people just on your way, while exploring the city! Jūrmala's SPA and rehabilitation centres are popular place for recovery of health and energy. Connoisseurs of culture will be pleased by varied offer of Dzintari concert hall, city's museums and exhibition halls, and churches that offer wonderful spiritual music concerts.
In the nature parks of Jūrmala you can see the unspoiled nature, birds and animals. Excellent entertainment for the whole family will be the visit of water park "Līvu akvaparks" and Dzintari forest park, or just a day spent sailing a boat or playing a tennis game.
Jūrmala also takes care of international events that will make your stay in Jūrmala an unforgettable adventure. Sports fans are able to follow the marathon summer of Jūrmala linking professionals, amateurs and families with children who are able to participate in cycling, jogging and rollerblading marathons.
Jūrmala is a place many associate with romantic feelings, a place where in resort centres a health has been regained, a place where wonderful moments with family and children have been spent, a place where productive work and business meetings interchange with a wonderful rest, a place to enjoy wonderful music and gain creative inspiration, a place to dance the first wedding valse and raise a glass of champagne right by the sea…
We invite you to experience wonderful moments, enjoy the life of a resort, nature and also recover health in our resort!
Welcome to our hospitable Jūrmala!
Top things to do
in Jurmala
Beaches of Jurmala
26 km of Jūrmala beach – one of the most awesome in Europe, is covered with white quartz sand that has been silt up by seashore stream. Beach is a great place for rest and recovery: rustle of waves has calming effect; ionized and phytonicide air has positive impact on breathing system, walking with bare feet on soft and warm sand during the warm months of the year, massages your feet.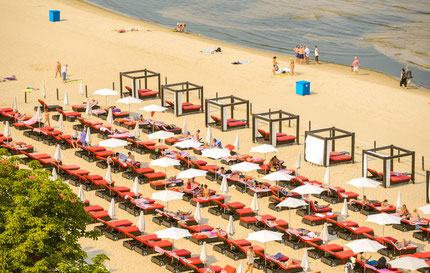 Dzintari Concert Hall
In 1936 the building of a concert hall with 690 seats was opened in the new Dzintari concert garden. The author of the project was V.Mellenberg. Built in 1960, the open - air stage is a famous place for concerting. In 1960 a summer concert hall with 2000 seats was built. The design of metal construction together with the wooden cladding provides perfect acoustics. Specialists have evaluated this place as a unique and in the matters of acoustics as one of the best in the entire Europe.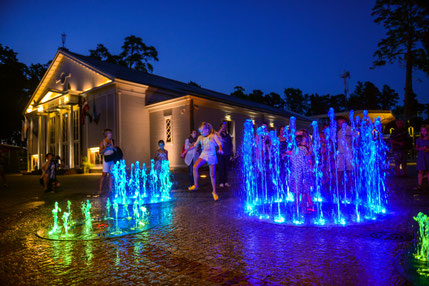 Water amusement park "Līvu akvaparks"
Water amusement park "Līvu Akvaparks" is the biggest multifunctional water park in Northern Europe and operates all year round. The total area of the park is 17 000 sq. metres, including 6000 sq. metres of summer open-air area. Aquapark is a good relaxation place for people of different ages and is divided in 3 functional areas: active, family and SPA.