Braunschweig Christmas Market 2023
From 29th November to 29th December 2023
Visit Braunschweig Christmas Market, one of the Most Beautiful Christmas Markets in Germany. Every year, the squares around St. Blasii Cathedral are transformed into a beautiful Christmas market with elegant illuminations and a delightful atmosphere. Between 29 November and 29 December 2023, 150 artisans and vendors will open their lovingly decorated stalls against an impressive historical backdrop. They offer a broad range of gifts such as wooden toys, jewellery creations, fur-lined leather goods and illuminated Christmas stars. Culinary delicacies from the region and around the world are always popular favourites during the holidays.
With its 500-year tradition, the Braunschweig Christmas Market is amongst the most attractive and atmospheric Christmas markets in all of Germany. Each year, it attracts several hundred thousand visitors.
During your stay do not miss to visit the Best Christmas Markets in Germany, Most Beautiful Castles in Germany as well as the Best places in Germany, Best Hidden Gems in Germany and Best Ski Resorts in Germany.
Book your flights, your accommodation as well as your activities and tours in Germany and discover the best of Germany. 

Hotels & Apartments 
 in Braunschweig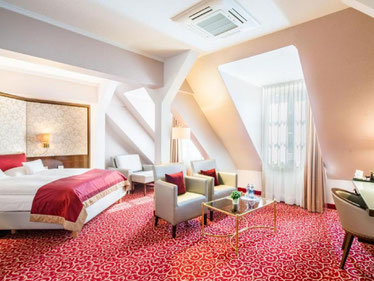 Best Western Plus 
★★★★
The Christmas market is 400 m away
Free parking available at the hotel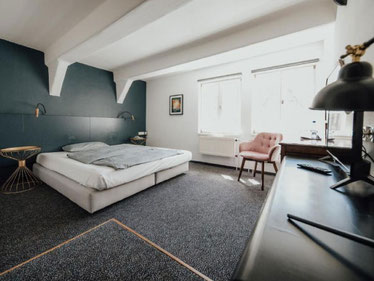 Magni Boutique Hotel
The Christmas market is 600 m away
Central location, close to shops and restaurants

Christmas in Braunschweig
image gallery

Tours & Activities
in Braunschweig
Rafts in the historic moat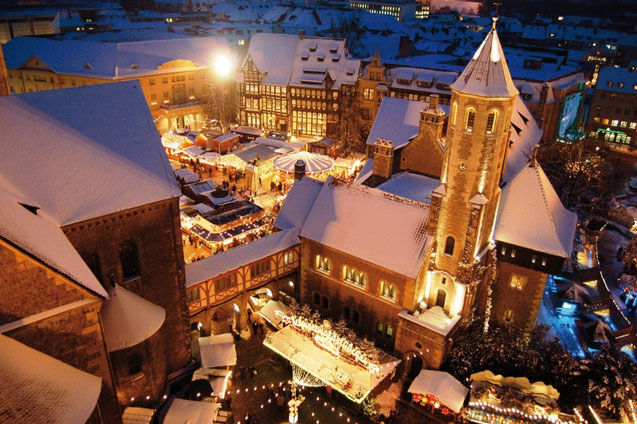 An attractive and popular meeting point is Castle Dankwarderode's historic moat, with its roofed wooden rafts. Lighting effects on a glittering bed of glass make the moat behind the castle seem to sparkle with the ghost of water now long gone. Set at a little distance from the busy hubbub of the market, the rafts offer enough room for groups to enjoy their hot drinks together and experience a quieter side of the Braunschweig Christmas Market.

A look behind the scenes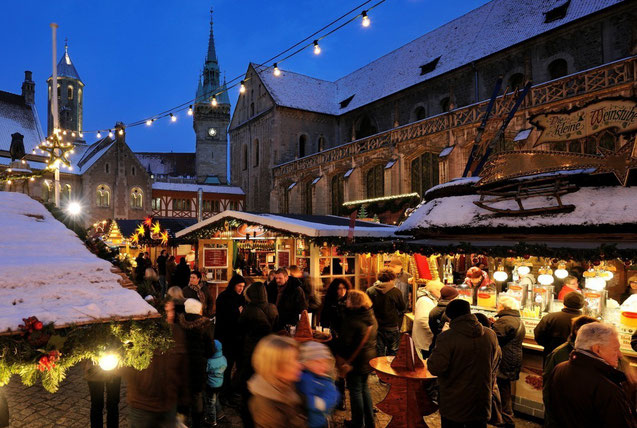 This city tour is a little different from the rest and will provide answers to many interesting questions about this traditional Christmas market. A guide will explain the background of the historic places all around the site of today's market and introduce the visitors to vendors who will provide insight into their professional lives while sharing a few colourful anecdotes.

Magical sights from on high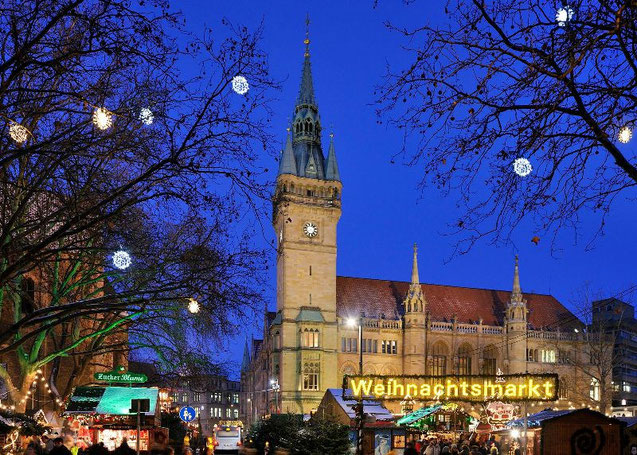 If you would like to see the Lion City and the Christmas market from an unusual perspective, climbing the 61-metre town hall tower is well worth the effort. 161 steps later, you will be rewarded with a beautiful panoramic view. You can climb the tower either on your own or as part of a professional city tour.


Best in Europe.
For an enchanted Christmas in Europe