Bordeaux has always been a dynamic, cosmopolitan city and never ceases to reveal exciting, new facets of its character.
The city of Bordeaux's inscription as a UNESCO World Heritage Site in 2007 and its bold modernism have made it a key destination for everyone interested in French culture, lifestyle... and wine!
Centre of a legendary winegrowing region, this vibrant and sophisticated city is a top gourmet and culture destination. Synonymous with fine wines, Bordeaux is one of France's most elegant cities. This UNESCO World Heritage site is ultraresplendent after its recent makeover.
Bordeaux's setting on the River Garonne has made it an important port for centuries. Bordeaux is the ideal base for exploring wine châteaux of Médoc, St Emilion and Bordeaux, fringed by the largest pine forest in Europe, just 45 minutes from Arcachon Bay (famous for its delicious seafood and oysters!) and superb beaches. The Basque Country and Spain are only 2 hours away and in 3 hours you can be on the Pyrenean ski slopes.
Visitors appreciate both the monumental stone architecture and attractive nooks and crannies of this city, with its fascinating historic and cultural heritage around every corner. The past is intriguingly present everywhere in the city. This is how «sleeping beauty» reveals her treasures to those who make the effort to look carefully and take their time.

Best hotel deals
in Bordeaux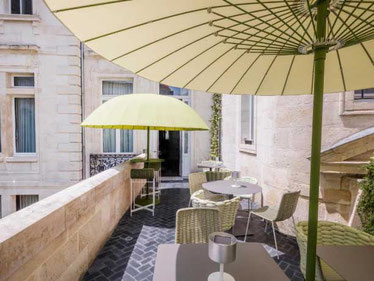 Yndo Hôtel 
★★★★★
In the heart of Bordeaux's historic centre
Lovely big communal terrace and garden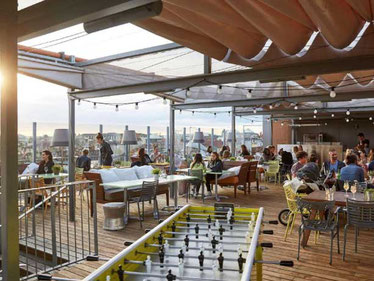 Mama Shelter Bordeaux 
★★
Situated in the real heart of Bordeaux
Roof terrace, cocktail bar with DJ music
Tours & Activities
in Bordeaux
Top things to do
in Bordeaux
Water Mirror
Located across from Place de la Bourse, between Quai de la Douane and Quai Louis XVIII, this spectacular pool, designed by landscape artist Michel Corajoud, alternates a mirror effect and artificial misting in an extraordinary way. The rhythmic changes in 2 cm of water on a gigantic slab of granite make this location truly magical. Children adore playing here and it is a meeting place for lovers as well as people who enjoy putting their feet into the cool water in summer! 
Bordeaux wine country
The Bordeaux vineyards are so vast (112,000 hectares) that there is not one, but 6 wine roads! The Médoc, with its famous châteaux, is located northeast of the city, whereas the Graves (the birthplace of Bordeaux wine) and Sauternes regions are to the southeast. The beautiful medieval town of Saint-Emilion is situated to the north and east of Bordeaux and, further west, the towns of Blaye and Bourg, linked by a corniche, overlook the estuary.
Opera House
Bordeaux's city centre features a marvellously elegant monument. The Grand Théâtre has delighted visitors and been the pride and joy of Bordeaux for over two centuries Along with the operas of Versailles and Turin, the Grand-Théâtre has one of the most beautiful 18th century concert halls in the world! The emblem of Bordeaux, Of all the public buildings in Bordeaux, the Grand-Théâtre is unquestionably the most well-known and appreciated.
CAPC, Museum of contemporary art
Bordeaux offers one of the richest collections of contemporary France. Created 40 years ago in a former colonial warehouse (Entrepôts Lainé), the CAPC focuses on emerging art forms. With a permanent exhibition of some 1,300 works by 190 artists (Robert Combas, Annette Messager, Mario Merz, Richard Long, etc.) the CAPC offers an in-depth look at a half-century of culture and features new forms of contemporary art.
The "Saint Pierre" district
Tourists who come to Bordeaux generally marvel at the beautiful buildings lining the quays before seeing anything else. However, many of them are unaware that the historic heart of Bordeaux is located behind the 18th century Place de la Bourse. Saint Pierre, the birthplace of Bordeaux After the Roman town of Burdigala ceased to exist, the inhabitants moved away from the river, and the new city centre became what is now the Saint-Pierre district.
Bordeaux Citypass
For those who wish to make the most of their stay, the Bordeaux CityPass give access to numerous monuments and cultural attractions. This Pass is available for 1, 2, or 3 days, combining free access to the public transport & bus network, admission to more than 20 top museums and UNESCO listed monuments, guided walking tours, sightseeing tour on the Visiotour double-decker bus, "Bordeaux Heritage Tour" guide map. Discounts with the citycard : sightseeing "bateau mouche" tour on the Garonne River, wine trips (½ day or full day trip) in the vineyards, shopping (Galeries Lafayette...).  Price : 1 day 21 €, 2 days 27 €, 3 days 33 €