Smart, Mediterranean, attractive, welcoming, festive, both ancient and contemporary, natural… Montpellier, as you like it!
Montpellier Méditerranée Metropole, in the South of France, is an exceptional destination, rich in character. Less than three hours from Barcelona and Italy, and just 11 kilometers from the Mediterranean Sea, Montpellier is the ideal holiday destination, a historic, effervescent city with attractions that rank among the most prestigious world heritage sites. A south and authentic destination which has earned its place as one of the major European spot for tourism, by offering both a modern outlook and a certain art of living.
Just have a look at the cafe terraces, full of people having a drink-and a break- and enjoying the vibrant city, its street artists and its 300 sunny days a year… you'll better understand our typically Mediterranean art of living! Montpellier, city of medicine and at the cutting edge of research activities and digital economy, also offers remarkable historic and architectural heritage, and many must see such as: 
• Historic center and the famous place de la Comédie
• A visit of Fabre Museum, considered as one of the most important fine arts museums in France. 900 works and collection of famous contemporary French artist: Pierre Soulages 
• Contemporary districts Antigone, Lez River and Port Marianne (new Town Hall designed by Jean Nouvel and François Fontès)
There are many other advantages besides, with the unspoilt natural environment offering a kaleidoscope of landscape between the Mediterranean Sea and the vineyards.  Walk around the 'circulades' (circular patterns) of the "metropole"'s towns and villages where happiness awaits at each bend. Explore the terroir through your taste buds, offer yourself a meal in one of the starred restaurant, stroll through fragrant markets, taste Grés de Montpellier AOC and Languedoc wines directly at the cellars and wine estates, have a golf break 15mn drive from the centre of Montpellier…   Montpellier is yours !
Last but not least, the exceptional cultural and sporting events. All year round, Montpellier Mediterranée Metropole welcomes amazing events, such as FISE (International extrem sport festival), Montpellier dance festival and especially in 2016, the cycling Tour de France arrival and departure, Bazille painting exhibition, and so much more… another good reason to come to Montpellier!
It should be clear for everybody now. Montpellier is not just a destination to be seen, it must be experienced! Strolling through the streets, sitting down on a lively, sun-drenched cafe terrace, enjoying a performance, seeing an exhibition. A last tip ? On arrival in Montpellier, put down your suitcases and enjoy. Experience and share ! #montpelliernow !

Best hotels deals
in Montpellier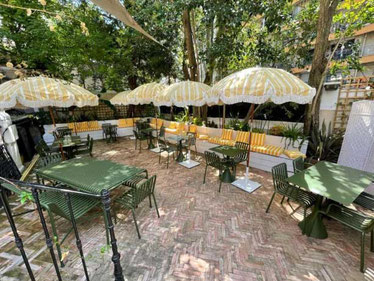 Boutique Hotel Maison Bayard
Ideally located in the centre of Montpellier
Great staff, lovely rooms, nice terrace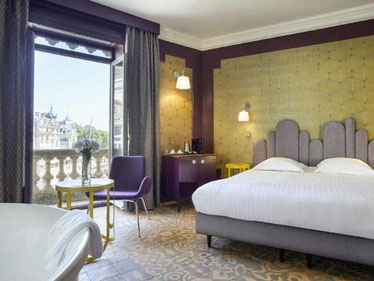 Grand Hôtel du Midi 
★★★★
Situated in the real heart of Montpellier
This hotel has an excellent location score of 9.5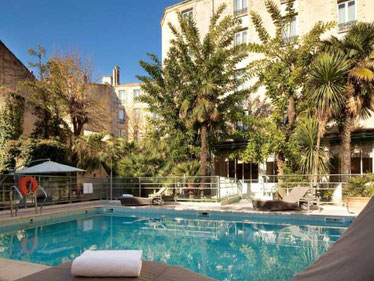 Hôtel Oceania 
★★★★
The Place de la Comédie square is 300 m away
A swimming pool and a shaded terrace
Montpellier
image gallery
Top things to do
in Montpellier
Discovering Montpellier, in the shade of medieval alleys!
A unique example in Europe of well-controlled city development, with contributions by the greatest names in modern architecture, Montpellier is nonetheless rich with 1,000 years of history. People who cherish old stones and a historical ambiance love strolling through downtown Montpellier's medieval streets, surrounded by historical monuments and antique shops, designer boutiques, and major luxury brand names set up in thousand-year old dwellings with vaulted ceilings... sure to give that far-from-home feeling!
Offering yourself an immersion by design
A City Hall designed by Jean Nouvel and François Fontès; tramways by Christian Lacroix, pierresvives by Zaha Hadid… People are increasingly aware that Montpellier has been embellished with numerous contemporary projects over the past several years.  As a contemporary and fashionable destination, Montpellier is pretty to look at, and even more so to experience first-hand. Criss-cross the city on designer tramways, discover contemporary art exhibitions in an ancient, desacralized church, visit the latest architectural creations, immerse yourself in culture, over and over again...
Enjoying the Culture in the corner of every street
Musee Fabre in Montpellier offers one of the leading fine art collections in Europe, alongside this there is the National Opera, international festivals such as Montpellier Danse, street art culture,  free contemporary exhibitions at la Panacée added to  amazing photos exhibitions in the Pavillon Populaire…  More than ever, Montpellier is a real life-sized museum; between the classic and the modern, culture is everywhere at all times, and most of all in the street.
Escaping to natural discoveries
Wide range of sandy beaches you can reach by bike, Maguelone Cathedral, a jewel of Romanesque art isolated on a peninsula between the sea and the lagoons, Mejean nature reserve, the neaby Camargue, Pic St Loup one of the most beautiful natural site in the region… the city's magnificent natural surrounding add an exceptional touch to every visit. Don't pass by these natural discoveries !