Newswatchers suddenly paid attention to this Saxon city in 1989, when worldwide headlines proclaimed "the Leipzig miracle." Upwards of 70,000 citizens, fed up with repressive governmental controls, took to the streets on 9 October 1989 after Monday peace prayers in Leipzig's St. Nicholas Church. The demonstration remained peaceful and spread throughout the socialist German Democratic Republic – one month later the Berlin wall fell, paving the way for the reunification of Germany.
Art and Economy
Long before those outbursts shook the status quo, trade fairs—still important today, originally held in the inner city's unique courtyards and passageways—made Leipzig prosperous and cosmopolitan. The city has been an important influence in European commercial and intellectual life for centuries, known for its book fair, trading and famous composers including Bach, Wagner, Mendelssohn and Schumann. St. Thomas Boys Choir was founded exactly 800 years ago. Its most famous choirmaster – for 27 years – was Johann Sebastian Bach, who is buried in St. Thomas Church today. Over the centuries, Leipzig merchants have supported the arts, collected paintings, endowed museums and founded the world-famous Gewandhaus Orchestra, which has cultivated classical music for over 250 years. Visitors of Leipzig city centre can even follow in Goethe's footsteps at Auerbachs Keller restaurant. Leipzig was also significant in the Reformation movement and in the Battle of the Nations against Napoleon in 1813.
Flair and lifestyle
Today the city is livelier than ever. The green surroundings of the Leipzig New Lakeland Area or Leipzig Zoo with its latest highlight, the tropical world of experience Gondwanaland, provide relaxation from the city's hustle and bustle. Leipzig's dynamic art scene around the "New Leipzig School" and key figure Neo Rauch enjoys an excellent reputation worldwide. Its prime site, Spinnerei, a former cotton mill in the trendy Plagwitz district, is home to countless galleries and ateliers.
And when you finally arrive in one of the many clubs or bars, you will realize that Leipzig is always wide awake.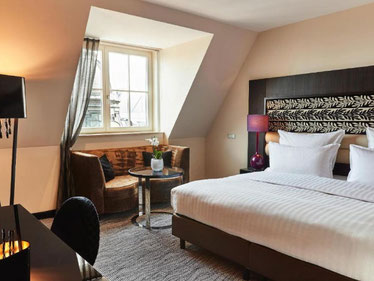 Steigenberger Leipzig 
★★★★★
The Market Square is 200m away
Spa, soundproofed rooms and free Wi-Fi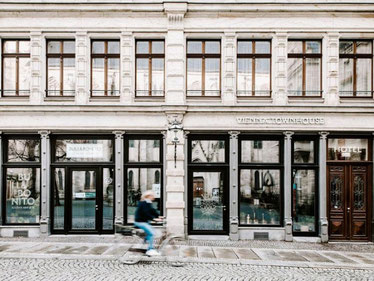 Townhouse Bach Leipzig 
★★★★
The Market Square is 300m away
This property has an excellent location score of 9.8
Tours & Activities
in Leipzig
Top things to do
in Leipzig
Shopping in Leipzig
They are some of Leipzig's most emblematic features – the many passages, arcades and old trade fair buildings that are shopping meccas, places of art and culture, and architectural gems all rolled into one. Ranging from antiquarian booksellers to pet stores, these inviting shops and boutiques are the perfect places to browse or buy.
Music in Leipzig
Leipzig's musical tradition is truly exceptional. This is the city where Johann Sebastian Bach, Felix Mendelssohn Bartholdy, Robert and Clara Schumann all worked, and where Richard Wagner was born and received his musical training.
Architecture in Leipzig
For many first-time visitors to Leipzig city centre it is impossible not to be immediately affected by the traditional yet powerful urban architectural surroundings. In Leipzig there are some notable historical buildings as well as fine examples of contemporary architecture by architects of international repute.
Leipzig's Pub Districts
Great places to party and spend time out with friends – wandering from restaurant to restaurant, from pub to pub, these neighbourhoods are the places to go for lively dining and entertainment: Drallewatsch, The Theatre District, Südmeile  areas. These streets are the best places to go for a wonderful time, a great cuisine, and lively entertainment right in the heart of the city.
Relaxation in and around Leipzig
You don't have to go far to enjoy a family excursion in Leipzig or to get out into the countryside or enjoy a little peace and quiet! Whether you love cycling, hiking or water sports, the possibilities are endless.