Advent in Zagreb 2023
2nd December 2023 - 7th January 2024
Advent Zagreb
Filled with Joy!
Many raised their eyebrows when Zagreb was voted the Best Christmas Market in Europe by the European Best Destinations website, but those in the know were prepared for such an outcome. And to prove it was no one-off fluke, Zagreb was again named Best Christmas Market in Europe the following year. And the year after that. Three years in a row. 
The Croatian capital's Advent programme expanded rapidly, reaching all corners of the city, with a rich programme of events, concerts, gastronomy, ice skating, kids' activities, and more, all tastefully lit up with festive lighting. The smell of mulled wine and local delicacies filled the air, and there was laughter and romance on every corner, as locals and tourists took to the streets to enjoy this welcome breath of life during the darker winter months. 
Even during the disruption due to the pandemic – when most other cities cancelled their Advent programmes – Zagreb managed to maintain the tradition and bring some festive cheer through a hybrid version of Advent Zagreb, by offering one of the biggest Advent programmes during these troubled times. 
However, nothing beats the warmth of human contact, the sound of laughter, the happy smiles of skating children, or sharing a glass of mulled wine with friend before heading off to explore another event or concert in one of Zagreb's endless squares and courtyards. 
And you don't have to wait long for the return of that fabulous festive feeling, because it is time to turn back time and relive the pre-pandemic experience of Advent Zagreb. It will be an event to remember, with a return to the magical offer that made it the very best in Europe three years in a row, and which had hundreds of thousands of tourists heading to Croatia in the quieter winter period. 
The return to Advent Zagreb in all its glory is perhaps best symbolised by the return of the popular ice skating rink on King Tomislav Square, a magnet for the little ones and a great socialising point for parents watching their kids skate. 
Lower Town, Upper Town and several other parts of the city will once again welcome back the food and drink kiosks, filling the cooler evening air with spicy aromas and an opportunity to catch up with friends at every corner.
Music and art are central to the soul of Zagreb, and this year's Advent will have an exceptionally rich programme of concerts and exhibitions, both indoor and outdoor. The sound of music will be one of the constants as you walk around the city which will be decorated in the holiday spirit to make it the ultimate romantic destination. 
Most of the Christmas magic is, of course, reserved for the children, and Zagreb has always had a very strong offer of fun and entertainment for families, so this year will be no exception. 
The final touches of this year's Advent Zagreb programme are being finalised. But rest assured, the festive joy and anticipation of a spectacular Christmas period in Zagreb is very much back. See you there!
Detailed information about Advent Zagreb can be found online at www.adventzagreb.hr
More information and more events: 
Hotels & Apartments
for Christmas in Zagreb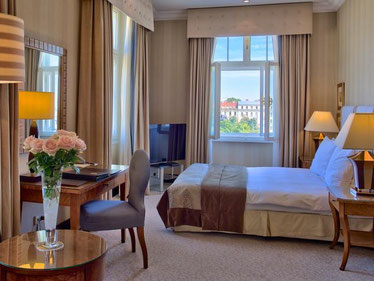 Esplanade Hotel 
★★★★★
Near the Main Train Station
Wellness centre, staff, location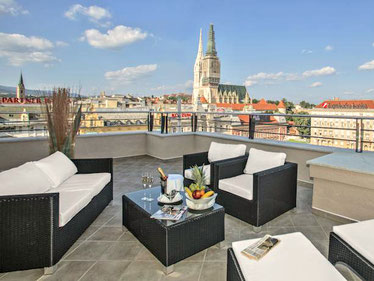 Hotel Dubrovnik 
★★★★
Set on Zagreb's Main Square
Perfect location, parking, pets allowed
Tours & Activities
in Zagreb
Christmas in Zagreb
image gallery
Top things to do
for Christmas in Zagreb
Advent in the City Centre
All the visitors of Advent Zagreb will have the opportunity to enjoy the somewhat-forgotten specialties of Zagreb, warm up with a cup of hot chocolate or mulled wine, or buy unique souvenirs and Christmas decorations for their loved ones.
Stroll through the many squares and parks, locations for charming, romantic walks all year round. If you hear the lovely voices of church choirs, take a peek into nativity scenes of Zagreb's churches. Enjoy concerts of the most beautiful Christmas songs performed by local soloists, ensembles and orchestras.
Advent Zagreb in the Augmented Reality
At a dozen different locations throughout Zagreb, you will be greeted by these cute time machines, luring you into the past through AR, augmented reality. Expand your picture of Advent through your smartphone screen and tell the younger generations the most beautiful Christmas story 
Christmas in Zagreb
Video
Best in Europe.
For an enchanted Christmas in Europe