In Malta you can span the millennia with an astonishing array of things to discover. And wherever you go, the scenery and architecture provide a spectacular backdrop. The colours are striking, honey-coloured stone against the deepest of Mediterranean blues.
Malta has been described as one big open-air museum. What makes it unique is that so much of the past is visible today. Delve into the island's mysterious prehistory, retrace the footsteps of St. Paul or see where the Knights of St. John fought their most famous battles.
Malta is holidaying as the mood takes you. And with near year-round sun, you can indulge in outdoor living at its best.
In just a kilometre or two, you can try a new sport, laze on an island cruise and tour the most important historic sites, and still have time to join in the nightlife. That's the real advantage of a stay here.
The island offers plenty of specialist holidays for those seeking to brush up their English, learn a new skill, discover history or get fit. If you're interested in sports, there's enough on offer to satisfy the seasoned enthusiast as well as the casual first-timer. Malta has wellness and spa facilities at the luxury hotels and club resorts. Sea and land lend themselves to activities from rock-climbing to gentle rambling.
And, if this were not enough, there are the other two islands - Gozo and Comino -which can be a pleasant change-of-scene during your stay on the mainland or alternative destinations in themselves. The choice is yours...

Best hotel deals
in Malta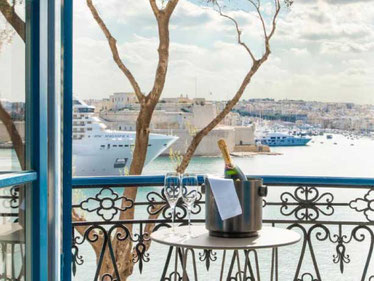 Iniala Harbour House 
★★★★★
Harbour House is located in Valletta city centre
Top location: Highly rated by recent guests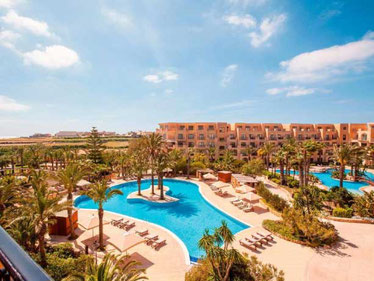 Kempinski San Lawrenz 
★★★★
Located on the westermost area of Gozo Island
Surrounded by 30.000-m² gardens
Tours & Activities
in Malta
Top things to do
in Malta
Beaches & Bays
Malta has beaches for everyone, from windsurfers to sunbathers. Choose from golden sand, red sand, rocks, blue lagoons and even inland seas. Some beaches and rocky shores are off the beaten track, but worth seeking out for their seclusion. Do not miss a boat trip to Comino's Blue Lagoon for the ultimate in azure water. On larger beaches, you will find cafes or snack bars open during the summer season.
Aerchaelogical sites
The sheer number of archaeological sites on the Maltese Islands sets their history apart from that of other Mediterranean destinations.
There are megalithic monuments, Bronze Age dolmens, Punic tombs, remains of Roman Villas and traces of prehistoric man, which defy explanation, such as the mysterious 'cart tracks'. For three millennia, from around 5200 B.C., the archipelago was home to a unique, temple-building civilisation. Malta and Gozo's temples are thought to be the oldest free-standing buildings known to man.
Fortifications & towers
Malta has often been called the 'Fortress Island' due to the great mass of military architecture that can be seen everywhere. This is a legacy of the islands' history which saw them being fought over, time and again, due to their strategic location and deep, safe harbours.
The fortifications that can be seen today come from two distinct periods: those of the Knights and those of the British era.
Natural attractions
Although the Maltese Islands may lack certain features such as mountains, rivers and forests which prevail in other countries, topographically speaking, the islands have much to offer.
Sheer cliffs made of layer upon layer of sedimentary rock rise sharply from the water, especially on the western side of both Malta and Gozo. The latter is characterised by flat-topped hills and lush green valleys.
Activity & fun
The Maltese Islands offer a variety of attractions for the whole family to enjoy together. Besides the beaches and pools, there is a marine and water park available for water fun. Not to be missed by kids of all ages is the Sweethaven Village - the film set of the 1980 musical production "Popeye".