Discovering Azores means letting yourself be dazzled by the coexistence of purity and modernity, and finally being able to take a deep breath without worries, on the only archipelago certified as sustainable touristic destination. 
THE DESTINATION OF THE MOMENT
Azores is the safest, most surprising, and comfortable destination. In this new reality we're in these 9 islands distinguish themselves by the security they offer: this destination offers the safe distance that visitors need, many outdoor activities that are everything we want after being confined for so long, and the peace we need in such troubled times.
AT LEAST ONCE IN A LIFETIME
Nine different islands, which combine tradition and modernity, very special gastronomy and unique natural scenery that you cannot find anywhere else — at least once in our lives, we have to give ourselves the opportunity to pause real life and be dazzled by the work of Mother Nature, and always being well-received, sustainably, never against nature, always connected with it.
AZORES FOR ALL
Increasingly a multi-differentiated audience destination, the Azores welcomes sports, nature, and birdwatching lovers, golf appreciators, and anyone who likes to do the longest walks, surrounding by green and blue. But also art and culture fans, people who are looking for surprising hotel projects, Portuguese cuisine (traditional and sophisticated) with premium ingredients of certified origin: occupy a special place in the Azores with so much yet to be experienced. 
TOP 10  - To Visit Azores 
1. European safest destination
2. The first archipelago in the world to be certified as a sustainable touristic destination
3. Destination distinguished with all the classifications awarded by UNESCO
4. Multi-destination offer, to explore at any time of the year
5. One of the best destinations for diving
6. Five centuries of history and tradition
7. One of the best destinations for land, air and sea adventures
8. Architecture, art and culture
9. Azorean Hospitality
10. Unique gastronomy, with high quality and organic products
Best hotels
in The Azores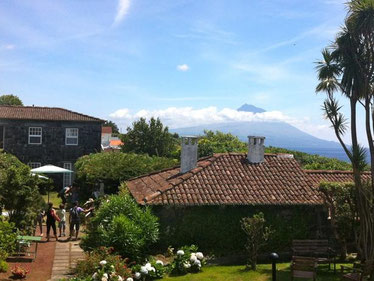 Quinta das Buganvilias 
Located 600 m from the small island airport
Rooms with sea, mountain, garden views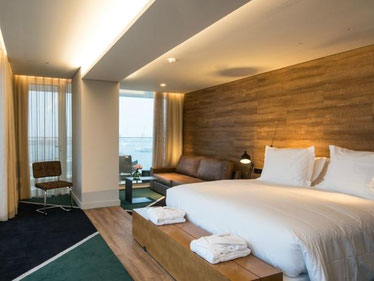 Azor Hotel  ★★

★

★★
Located in Ponta Delgada
Spa and Wellness facilities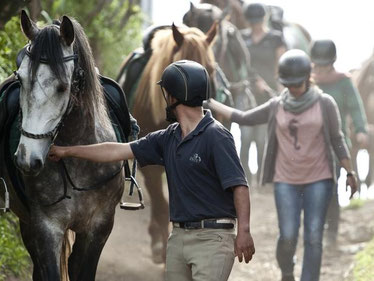 Patio Lodge
Horta is 11.3 km from the property
Patio with sea views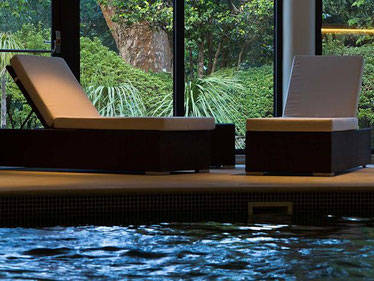 Terra Nostra Garden Hotel ★★

★★
Next to the Terra Nostra Botanical Park
Indoor and outdoor pool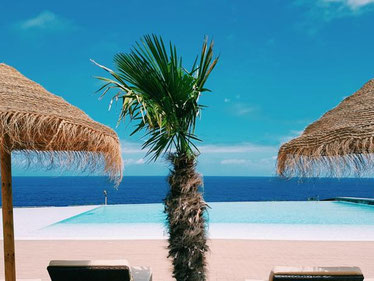 Pedras do Mar Resort&Spa ★★

★

★★
Located 9.7 km from Ponta Delgada
You can play tennis 
Tours & Activities
in The Azores
Top things to do
in The Azores
Hiking
There is a network of approximately 70 mapped trails, classified in accordance with their level of difficulty, distance and type of route (linear or circular). As you walk inland from the coast, you will enjoy a stunning landscape marked by dense coastal woods, juniper trees and the remains of laurissilva forest. But there is much more than just vegetation: volcanoes, waterfalls, vineyards, typical homes, windmills, fishing boats and corrals. What's more, on the coast, there are tidal pools nestling amongst rock formations, great for a refreshing swim!
Swimming with wild dolphins and whale watching
The Azores is one of the best places in the world for whale watching. Around 25 resident and migratory species can be seen including the magnificent sperm whale and blue whale
The sperm whale (Physetermacrocephalus) is amongst the most common: the same giant of the seas that was immortalised in the classic book, Moby Dick. Other whales can also be seen, such as the blue whale (Balaenopteramusculus) and the fin whale (Balaenopteraphysalus), as well as several species of sharks, turtles, dolphins, and many other fascinating marine animals.
Culture and Gastronomy
If you are looking what to see in Azores, these islands are marked by their quality and excellence, where what is genuine and unique marks the difference and imposes, contributing to the development of the region's natural and cultural heritage.
If you are looking what to taste in Azores, there's a rich gastronomy, based on regional products of excellence, as seafood, fresh fish, meat, tea, cheese, wines, soups, sauces and pastry, all locally produced.
Classifications awarded by UNESCO
The archipelago of the Azores is one of the two regions in the world holding all the classifications awarded by UNESCO, namely World Heritage (Angra do Heroísmo historical centre since 1983 and Pico Island Vineyard Culture Landscape since 2004), Biosphere Reserve (islands of Corvo, Flores and Graciosa and "Fajãs" of São Jorge Island), Ramsar Site (13 sites) and Geopark (121 geosites throughout the nine islands and the surrounding marine area).
9 Islands to Visit
To travel throughout the Azores is to get to know nine islands where the same genetic code generated profiles that are distinct from one another. The long lists of natural parks, of areas of protected landscape, of protected fauna and flora species, of forest reserves, of geolandscape, and of sites with geological interest guarantee the preservation of a priceless natural legacy. As a form of compensation for all of this effort, the Azores are considered to be a sanctuary of biodiversity and geodiversity and one of the best locations for Nature Tourism.