Dusseldorf Christmas Markets 2023
From 23rd November to 30th December 2023
Visit Dusseldorf Christmas Market, one of the Best Christmas Markets in Germany. From 23rd November to 30th December – a longer period than ever before – the Christmas Market will be inviting visitors to the city centre with a large variety of Christmas worlds in different looks. There are several Christmas markets in Düsseldorf, all located in the Old Town area (Altstadt).
During the festive season, Düsseldorf will have lots of atmospheric new features. At the northern end of Königsallee, directly adjacent to the Hofgarten and the Kö-Bogen, this year visitors will be able to enjoy a 1,700-square-meter ice rink on Corneliusplatz. 
Right next door, a new Fairy Tale Market invites all visitors, and especially families with children, to experience the pre-Christmas magic. The children's programme has been expanded overall so that this year, for example, there will be a children's activities tent on Jan-Wellem-Platz with shows every day. 
So grab your loved ones and make sure to get into the festive Christmas spirit in Düsseldorf.
During your stay do not miss to visit the Best Christmas Markets in Germany, Best Castles in Germany, Most Amazing Hidden Gems in Germany as well as the Best Ski Resorts in Germany. 
Book your flights, your accommodation as well as your activities & tours in Germany and discover the best of Germany.

Hotels & Apartments
in Düsseldorf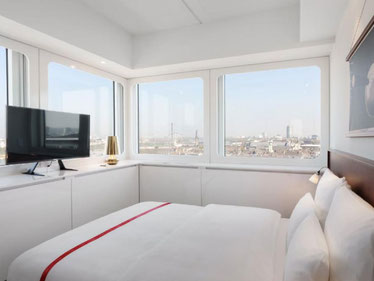 Ruby Luna Hotel 
★★★★
The main Christmas market is 600m away
This hotel has an excellent location score of 10.0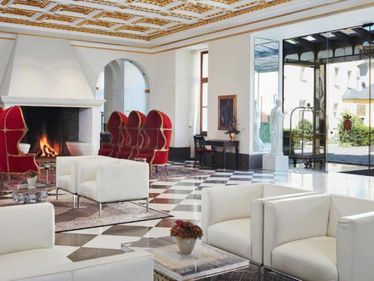 Living Hotel De Medici 
★★★★★
The main Christmas market is 300m away
Restaurant, spa and fitness room

Tours & Activities
in Düsseldorf

Christmas in Düsseldorf
image gallery

Top things to do
for Christmas in Düsseldorf
Discover the individual locations of the Christmas market in Düsseldorf!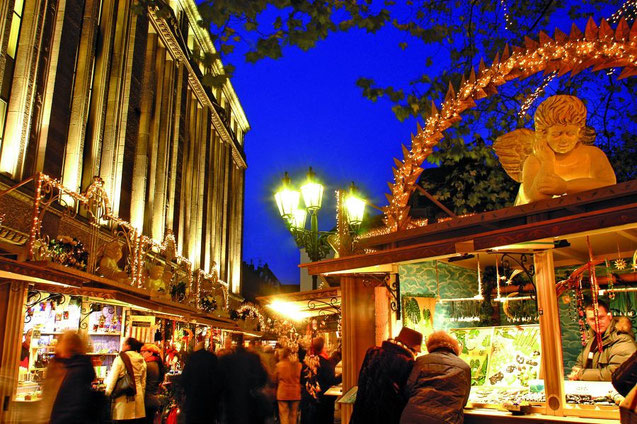 The town hall consitutes a magical setting for one of the individual markets. On Flinger Straße, there are huts modelled after historic Düsseldorf town houses. The Engelchenmarkt on Heinrich-Heine-Platz is distinguished by its Art Nouveau setting. On Schadowstraße, snacks, seasonal beverages and a merry-go-round for children are offered. Schadowplatz comes up with a Scandinavian-style Christmas village. The Sternchenmarkt at Stadtbrückchen is characterised by sparkling stars on sky-blue stalls.

Experience a guided Christmas tour!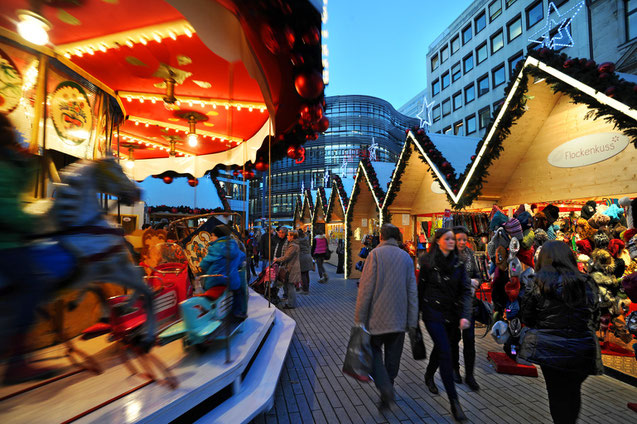 Savour the fragrances of cinnamon and gingerbread, of mulled wine and hot chestnuts, and listen to the stories and poems your well-informed guide tells you. The round tour ends with a deliciously spiced mulled wine (a cup of steaming hot chocolate for the little ones) and scrumptious Christmas biscuits. Duration: approx. 120 min. Price: 9 € p. p.

Enjoy Christmas shopping in Düsseldorf!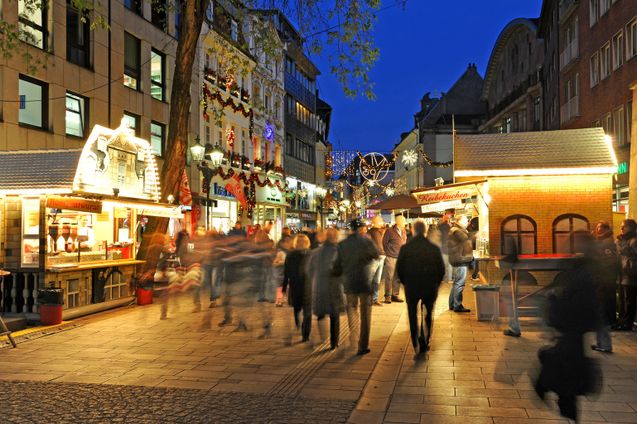 Düsseldorf is one of the most exclusive fashion and shopping destinations worldwide. The elegant boulevard Königsallee with its famous fashion labels and special flair of luxury serves with everything a shopping heart desires. Scene shops and boutiques with young and trendy fashion can be found in the Altstadt (old town) and in the Flingern district. Lovingly decorated shop windows and illuminated shopping streets ablaze in a sea of lights promise a very special shopping feeling in Advent.


Best in Europe.
For an enchanted Christmas in Europe