Why Malaga? The answer lies in its authenticity, its location, its easy access to cities such as Seville, Ronda, Cordoba or Granada, its unique cultural offering with no less than 37 museums, as well as its imposing natural wonders, and of course its yearly average of 300+ days of sunshine.
Malaga is a unique destination in Europe and a mix of modern, traditional, culture, beach, gastronomy and shopping. The city of Malaga is a destination that combines leisure tourism, business with an incredibly extensive cultural offering of worldwide recognition as well as amazing events.
More than 3,000 years of history have transpired since the Phoenicians founded Malaga and today it is a beautiful, friendly and cosmopolitan city that enchants tourists from all over the world. The Roman Theatre and the ancient "garum" pools will transport you to the times of Roman Hispania. Meanwhile, the "Alcazaba" is one of the most beautiful living examples of the period of Muslim domination. Visitors can further experience the Reconquista by the Catholic Monarchs by visiting the Sanctuary of Victory.
The appeal of the Andalusian region and its unique Southern city is easy to comprehend.  In addition to its history, its incredible cultural offering concentrated in the historic centre, Malaga has transformed into one of the international cities with the largest number of museums.  With three and a half million visitors a year, The Picasso Museum is one of the most visited museums in Spain. The Centre Pompidou Malaga is the first branch of this famous Parisian art institution outside of France.  The Collection of the Russian Museum from Saint Petersburg together with The Carmen Thyssen Museum and Picasso's birthplace museum are notable galleries.
Whether visitors likes contemporary art or 19th century paintings, Spanish wine, Mediterranean cuisine, archaeology or even automobiles, the city of Malaga offers a long list of interesting museums, which satisfy every taste.
Furthermore, Malaga's year-long sunshine, colourful bougainvilleas, appropriately named iced summer wine called "tinto de verano," friendly and approachable citizens, and let us not forget, its delicious gastronomy with olives and cured ham at every corner make Malaga an undisputed reference for quality tourism.
Malaga has created a strong brand identity, recognized by tourism professionals and travellers all around the world.  It is currently one of the most popular destinations on social networks.
Don't hesitate to visit this outstanding destination!
Best hotel deals
in Malaga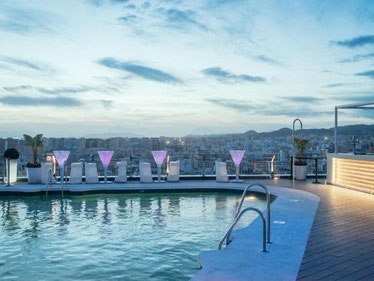 AC Hotel Málaga Palacio 
★★★★
The main street is 100m away
Rooftop swimming pool and views of Málaga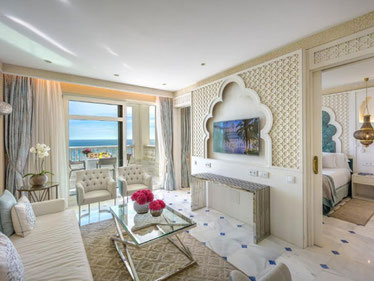 Gran Hotel Miramar 
★★★★★
Beach district, perfect for a sunny break
Fantastic sea view, spa and pool, elegant rooms
Tours & Activities
in Malaga
Top things to do
in Malaga
Museums Tours
Malaga has become a true City of Museums. There are 37 museums, most of them concentrated in the historic centre, making Malaga's old town one of those with the highest density of museums. Among the best known museums in Malaga you will find:
The Museum of Malaga, The Picasso Museum, The Picasso Casa Natal (Picasso birthplace museum), The Carmen Thyssen Museum, The Contemporary Art Museum, The Pompidou Centre Malaga, The Collection of Russian Museum from Saint Petersburg, The Municipal Art Museum (MUPAM), The Flamenco Art Museum.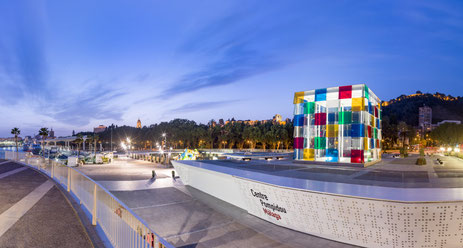 Historic Monuments Tour
More than 3,000 years of history have transpired since the Phoenicians founded Malaga and today it is a beautiful, friendly and cosmopolitan city that enchants tourists from all over the world.
The City is full of fascinating historical attractions, from cathedrals to castles. Some of the highlights that are a must-see include: The Catholic Cathedral, The Muslim "Alcazaba" fortress, The Roman amphitheatre, The Gibralfaro Castle. 
ENJOY MALAGA'S WIDE RANGE OF GASTRONOMICAL HIGHLIGHTS
In recent years, the city has taken formidable qualitative steps forward in terms of variety and wealth of cooking styles. A series of newly-opened restaurants have positioned Malaga nationally as an important destination for what is called creative cuisine. Over 4,000 catering establishments, of which more than one thousand are restaurants, are concentrated in a city with just over 550,000 inhabitants, proving beyond a doubt a gastronomy that has become an art in Malaga. 
Beaches
The advantage of being able to combine, in one destination, a wealth of monuments, museums, culture and gastronomy with the possibility of stretching out in the sun or simply taking a stroll along the beach is a privilege. Malaga's beaches enjoy a special location alongside a great city with all the services and attractions. There are 14 kilometres of beaches in the city which can all be easily reached and are all equipped with high-quality services. In general, the beaches are separated from the urban traffic by a network of wide esplanades, making them true havens of peace and oases of tranquillity.
Shopping
Malaga is a great city for shopping. You will find just about everything from the mundane (clothes, shoes, bags, accessories and gift articles) to the most sublime (crafted products, antiques and works of art) all located within the historical centre together with several true commercial centres with their easy parking and large number of establishments concentrated in one place.