Düsseldorf is liveable and lovable! The city dazzles with its outstanding infrastructure and modern architecture, cultivates its traditions, and creates a cosmopolitan buzz with its cultural programme.
Above all, Düsseldorf is the city of fashion, shopping, culture and lifestyle. The great international designers present themselves on Königsallee (Kö), one of the most luxurious shoppers' paradises in Europe. Exclusive boutiques and large fashion houses stand side by side with elegant street cafés. Individual districts such as Flingern or Unterbilk equally offer an innovative and unique range of small boutiques and designer stores, several of which are found only in Düsseldorf.
Only a few steps away from "the Kö" is the historical Altstadt, the Old Town. It is best known for its more than 260 pubs and restaurants and its top-brewed 'Altbier'. In its narrow lanes with their easy atmosphere, countless small fashion stores and avant-garde shops have established themselves.
Most of the museums are in the Altstadt or on its fringes. Numerous art galleries, artists' studios and antique shops are located in the Altstadt. The Rheinuferpromenade bordering the Altstadt along the Rhine is one of Düsseldorf's most popular meeting places. People enjoy the sunshine in one of the many bistros and restaurants or board a boat for a trip on the Rhine.
Following the promenade along the river, the MediaHarbor will automatically be reached. This well-established entertainment district is a unique mixture of historic industrial monuments and exciting new architecture designed by international star architects. Here is where the media and fashion, art and culture, design and advertising companies, but also hotels and restaurants have settled to enjoy the unique flair of the harbor.
Düsseldorf stands for exciting experiences and discoveries. A city that stimulates all senses - elegant, hospitable and of typical Rhenish joie-de-vivre.
Best hotels
in Düsseldorf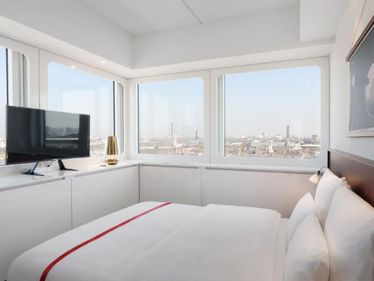 Ruby Luna Hotel 
★★★★
The town square is 600m away
This hotel has an excellent location score of 10.0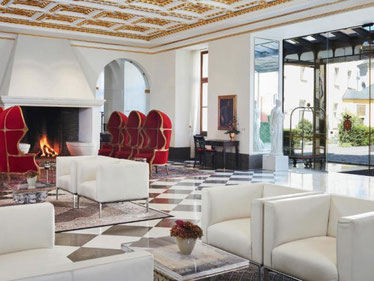 Living Hotel De Medici 
★★★★★
The town square is 300m away
Restaurant, spa and fitness room
Tours & Activities
in Dusseldorf
Top things to do
in Düsseldorf
Altstadt (Old part of the town)
Narrow lanes and old churches, quaint breweries and ancient pubs, hip bars and clubs, good old French fries and exquisite food: this is Düsseldorf's Altstadt, the Old Town. The waiters are at times a bit rough, the next Alt beer comes without ordering, a hearty meal goes with a funny story, there can be a lot of hubbub and tranquility just a few steps away. In short: if you want to really know Düsseldorf, the Altstadt is a must.
MediaHarbour
Renowned architects have made the MediaHarbour the top address for connoisseurs of architecture from all over the world. Where just a few years ago deserted storage halls emanated an atmosphere of bleakness, today's stylish scene bars and restaurants represent the modern Düsseldorf.
Art in Düsseldorf
Fashion city, trade fair city or "desk of the Ruhr area" – Düsseldorf is called many things. But the capital city of North Rhine-Westphalia is also a pulsating metropolis of art and the city of fine arts in western Germany. With the Kunstakademie (art academy), such projects as Quadriennale, 26 museums and over 100 galleries, Düsseldorf possesses a rich and varied landscape of art and culture that is second to none in Germany.
Creative people revolutionize neighbourhoods
Non-believers beware! If you think that Düsseldorf has nothing to offer apart from Kö and Old Town, you are sorely mistaken! Young, creative and ready to experiment – this is how the hip Düsseldorf presents itself. Those who are prepared to see beyond the 'Kö' will make a miraculous discovery.
Benrath Palace
Benrath Palace, built during the late Baroque period, is also home to the Museum of European Garden Art. The palace gardens with a reflecting pond, an English landscape park and a French baroque garden are a beautiful place for taking a stroll between old trees, sculptures and flower and herb gardens.