From 25th December 2023 to 14th January 2024
Georgia's capital city Tbilisi is gradually becoming one of the most visited destinations for the winter season. This is especially evident during the Christmas period, when the illuminated and fabulously decorated Tbilisi, with a magical festive atmosphere, provides the convivial mood for every visitor of the city. Countless little lights and richly decorated Christmas trees are lining up the sidewalks.
The Christmas markets are held almost in every corner of the capital city, where local entrepreneurs and start-ups sell their handicraft items and souvenirs, Christmas treats, street food, Georgian candies and mulled wine. Set up on First Republic Square, near Rustaveli Avenue, the location hosts visitors of all ages for theatre shows, music performances, puppet theatre, open-air movie-show, gorgeous Christmas tree, Wood huts, decorated with colourful bright lights, etc.…The annual Christmas events usually last throughout December.
On Christmas morning (January 7), thousands of people participate in traditional Christmas march called Alilo, where different churches walk through the streets of Tbilisi, collecting food and sweets, which are later distributed to the people in need and orphanages.

Hotels & Apartments
in Tbilisi
Hotel Day Inn 
★★★★
The main Christmas market is 200m away
This hotel has an excellent location score of 10.0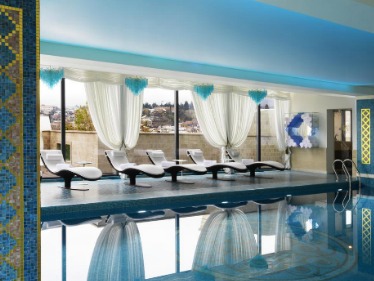 Ambassadori HoteL 
★★★★★
Located in the historic, cultural and nightlife center
Offering a sun terrace and sauna

Tours & Activities
in Tbilisi

Christmas in Tbilisi
image gallery

Best in Europe.
For an enchanted Christmas in Europe