Gstaad Opening Season 2022/2023
12th November 2022- 7th May 2023 (Glacier 3000)
The combination of the special experiences for which Gstaad is so famous is unrivalled. It cannot be found anywhere else and makes Gstaad the 'last paradise in a crazy world' (quote by actress Julie Andrews, a regular visitor to Gstaad). The prestige value of the brand Gstaad comes top of the list. The internationally renowned brand which is associated with luxury and high society creates a value that resonates far beyond the actual main target group. 
Despite a history of tourism dating back more than 100 years in the region, a genuine Alpine lifestyle still prevails in the destination of Gstaad. For instance, it is home to approx. 200 agricultural businesses, 80 alps still in operation and over 7,000 cows. Local products, such as cheese and meat as well as craft traditions, are very popular. Houses with a chalet architectural style dominate the villages in the region, of which Gstaad represents the tourist centre. Some of the cosy buildings date from the 15th century. 
The destination is divided into five attractive side valleys. This fact is what the legend of God's hand is based on, which is said to have had a rest there during creation. The altitude of between 1,000 and 3,000 metres above sea level has a positive effect on personal well-being. Forests, green areas, streams, lakes and the mountain panorama create an impressive backdrop.
Gstaad has an exceptionally diverse range of winter offers: these include 220 kilometres of slopes and the only glacier ski area in the Bernese Oberland, sunny terraces of cosy mountain restaurants and ski slope bars attract guest. Specialists enjoy themselves in different snow parks or in the extensive freeride and ski touring area. Gstaad is also one of the top cross-country ski areas in the Alps and is considered a tobogganist's paradise.
Approximately the half of all visitors travel to Gstaad in the warmer months. With 300 kilometres of walking tracks – accessible by up to nine mountain railways –, countless bike touring and climbing opportunities as well as an idyllic 18-hole golf course, visitors to Gstaad can enjoy plenty of leisure activities. 
No other holiday region spoils its guests' palates like Gstaad does. More than 100 restaurants ranging from a cosy raclette restaurant to a gourmet restaurant are available to choose from. Renowned restaurant guides value excellent kitchen arts with outstanding appraisals. The Alpine businesses also offer various accommodation options. 
With 12,000 inhabitants, the holiday destination of Gstaad has an offering of cultural and sporting events which would be extraordinary even for urban regions. Every year, guests can choose from more than 1,000 different events. Some of these events have a top international format, such as the Menuhin Festival, the ATP Suisse Open tennis tournament, the Swatch Beach Volleyball Major Series – Gstaad Major, or the Hublot Polo Gold Cup – to name but a few.

Ultima Gstaad 
★★★★★
Ski-to-door access
Private parking is available on site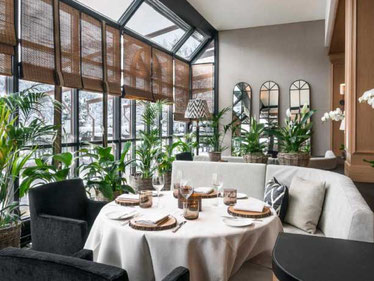 Park Gstaad 
★★★★
450 m from ski lift
4 restaurants and a 1000-m² spa area

Discover Europe's best ski resorts